5 Reasons You Shouldn't Trust your Developers with Testing
by Anastasia А. on 10/15/2020
Developing a software project is not easy. It requires a lot of time, effort, and, most concerning, funds. Naturally, people working in the IT industry are always on the hunt for techniques to make the development faster, easier, and cheaper. One of such techniques is to merge roles inside one team or, simply speaking, choose multitasking over delegation. On a paper, this might sound like a good idea ― if two people share the same skills, like an in-depth understanding of programming, why can't they execute the same duties? Following this logic, many companies have shown a tendency of blurring the line between a software engineer and QA tester roles. In reality, entrusting the whole software testing process to the programmers does not work as many of us imagined. In this post, we're providing point-by-point explanations why. 
Merging developers and testers: constructive criticism
QA team does way more than just testing.
Responsibilities of a quality assurance department go far beyond the actual testing. Other than that, QA analysts and engineers document the testing process, provide technical consulting in order to discover most suitable bug-fixing methods, research project requirements that later become a starting point for test case creation, partake in project planning, etc. The wide range of duties that software testers take responsibility for is the reason why there's also a role division inside the QA team itself. Expecting your software engineers to cover all these tasks is unrealistic; they just would be out of time for coding then.
Software development is already multitasking enough.
Since we've started with listing down QAs' responsibilities, let's also go over the software engineering team duties for the sake of perspective. On top of writing code, which already takes most of a developer's workday, these people also have to participate in strategic planning, write project documentation, keep up with technology updates, onboard new employees, work closely with UX/UI designers and project managers, test code in units, and at times attend meetings with company's investors or clients. That's quite a lot of work, and as you can see, there's already some testing activity included. Keep in mind that software engineering is a very complex activity that can be exhausting for one's mentality and even lead to so-called programming fatigue. Overloading developers with things that are not their initial responsibility (like thorough quality assurance) will decrease the team's productivity, and that's not what a company would want anyway.
Developers test their code with unintentional bias. 
Another differentiating factor between developers and QA engineers is motivation. While the first ones focus on the code quality, QAs check the overall application's performance and requirements fit. Being forced to test what you have created yourself adds unintentional bias to the testing procedure making it less effective and transparent. In other words, software engineers often lack perspective to review the developed product, and it's not even their fault but an occupational hazard. Bottom-up tests written by developers are great for spotting issues in the code, but what about critical checks of the product user-facing side? If you want your QA and debugging to be effective and all-encompassing, make sure you get a fresh pair of eyes on your future release. 
QA performed by developers slows time to market.
If you want to fully delegate the quality assurance process to your development team, be ready to postpone the market release. As we already described above, there is more to QA than just testing. This means to execute it on a decent level, developers will have to pause the code implementation for the sake of quality check. Testing documentation, reporting, strategic decisions on future fixes, and tailoring the product to market needs take a lot of time. And since you don't have separate departments to take care of all those things simultaneously, they can only take place one after another. High chances this will affect the timing of your launch, which is risky for such a fast-pacing industry. 
Development process might get messy.
A separate quality assurance department is an evolutionary mechanism of the software development industry. Years back, there were no delegations inside so-called software teams ― just a bunch of people gathered to share their ideas and maybe create something usable if things go well. It's only with time and through a negative experience, programmers started to realize that role division actually makes a lot of sense. Trust our background, companies hire not only software engineers but many professionals with different titles for a good reason. Software development is a multi-layered ecosystem with its rules and laws, and it does take an effort to maintain it. Any confusion over teammate responsibilities comes with unfortunate consequences for digital projects. Enjoying your small, multi-tasking team for a moment will cost you organized in-house operations, but it might be too late when it all comes out of the bag. 
Summing up
Software development is complex in its nature, so jumbling the team roles up means putting your project's future at risk to say the least. Quality assurance is the only way to tell whether the software works not just from the technical point, but from a real-life use perspective. We hope our look at software testing mistakes associated with merging QA and developer roles gave you an idea of what you deprive your project of adopting this practice. In case your experience with it was any different, we would be happy to hear your story, so do not hesitate to get in touch and share it.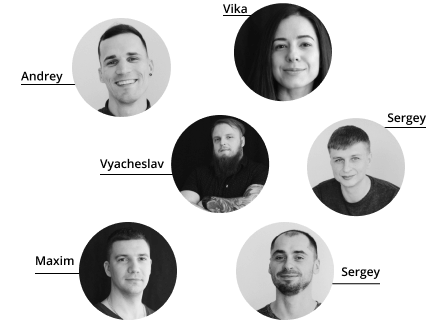 Hire a team
Let us assemble a dream team of QA specialists just for you. Our model allows you to maximize the efficiency of your team.
Request Specialists