Roles and Responsibilities Inside a Software Testing Team
by Anastasia A. on 10/29/2020
Software testing is a set of techniques applied to check if a digital product works up to its technical requirements. Due to the complex and multi-level nature of the testing process, it is rarely performed by one person, but a team of professionals with a strictly defined area of expertise and job duties for each individual. In today's post, we're breaking down the software testing team roles alongside with responsibilities they take in the course of a project. 
QA Team Responsibilities
History knows a lot of embarrassing examples of software not being tested properly, like Apple's group FaceTime issue or Windows 10 problem with Surface Book 2, that taught the IT industry to take QA seriously. No wonder tech companies nowadays strive for well-established quality assurance departments. To give you an idea of what you should expect from your software testing team, here are its most important responsibilities listed:
Requirements analysis
Prior to any testing or even planning, the test team has to carefully gather client's expectations from a future product. Knowing what is expected, the team will use this as a reference for testing later. This stage also includes testing SLAs ― Service Level Agreements between the company that owns an application and its future users.
Test planning
The days when the quality assurance team seated and waited for software developers to finish a product so that they could click through it are long gone. Nowadays, the creation of test procedures and cases starts at the same time as the development process if not earlier. And it also requires roundtable discussions, brainstorming sessions, and in-depth research conducted by all core team members.
Create testing documentation
Accurate reporting is just as important as seamless test scripts running. Process documentation ensures that you can easily track what's been already done in the course of a project and won't miss the current state of things. Also, maintaining a clear and concise documentation is the only way to quickly introduce new team members to the project development process. To make sure the documents you have on your project are up to the industry standards, check out this free sample and see if anything is missing. 
Test cases execution
Of course, the foremost responsibility of the QA department is to actually execute software tests. This includes error discovery and reporting, security testing environment setup, recommendations on possible ways to improve the software performance, fixes verification, and overall technical overseeing of every bug during its lifecycle. To keep the testing practice up to date, the team has to check out industry trends from time to time, implement modern tools in its operations, and rely on QA best practices when working. 
QA Team Roles: Who Does What
Depending on the project scope, the software testing team varies in size, job titles, test methodologies, and technologies applied. Nevertheless, the central unit of any QA department is a software testing engineer position that also can be titled as quality assurance engineer or software tester. This is a very broad term which in reality doesn't say much about a person's professional background, tech stack, and approach to software testing. That means, if a team employs, let's say, three software testers, chances are these people check software quality in different ways and even in different stages of a project life cycle. 
As for the QA team organizational structure, it can either follow one of the classic patterns ― functional, divisional,  product- or processed-based ― or be unique to your corporate culture. No matter what way would you go with your testing team, here the roles you will most likely have in it:
Role

Duties

QA Lead

Supervises the team and controls all the software testing operations. Namely, he/she is in charge of testing strategy, resource planning, internal team communication, testing process estimation, and quality control of the work delivered by the teammates. Also, executes external communication with a client or product owner to gather requirements for the future product, forward them to the testing team, and make sure everybody fully complies with them.

Test Architect

Analyzes project requirements and creates a suitable test framework. Has both automation and manual testing experience as well as deep understanding of software architecture and system design. Provides technical support to the QA team at all stages, from scripts and cases creation to retested error fixes. Also takes part in high-level service improvements.

QA Analyst

Combines software testing expertise with an industry-specific background that he/she applies to make a particular product a better fit for the market. This position focuses on business logic and correspondence to the needs of the target audience rather than on technical details of software testing. Works closely with product owners, software engineers, and team managers to ensure the future product's functionality is able to meet industry standards.

Automation Tester

A test engineer that relies on automated tools like Selenium framework, HP Unified Functional Testing, etc. This position requires strong programming skills, as automation QA engineers check not just how a certain feature performs, but an isolated piece of code it is implemented in. Works by coding test scripts that compare the expected software outcome with the real one. Automated QA also includes

unit testing

that can be performed directly by developers.

Manual Tester

Checks product performance by hand. Mostly focuses on the client-facing (frontend) side of the software, meaning checks it like if it was given to the real end-users. Manual testers utilize bug tracking and test management tools like Airbrake, Backlog, and ReQtest to ensure the app works as required. 

UI/UX Tester

Companies that truly strive for best-in-class user experience divide

UI/UX testing

in a separate stage within the software development life cycle. The thing is, with every new issue found and fixed, both product performance and outlook might change, and not always for the better. That's why QA teams hire UI/UX testers ― people with a web design background able to keep the initially developed system design as polished and smoothly performing in reality as it was on paper. 
Summing Up
Quality assurance process includes many service levels and requires a solid understanding of software development to be productive. Every team role has its unique responsibilities that should never be neglected if you strive for quality products under your company's name. Even if it looks like you need to hire a lot of people to achieve a successful product release, trust us, establishing a QA department isn't as hard or expensive as you think. Modern approaches to software testing allow companies of all sizes to grow a team ― be it in-house or an outsourced one ― of skillful testing professionals even on a budget or in tight deadlines.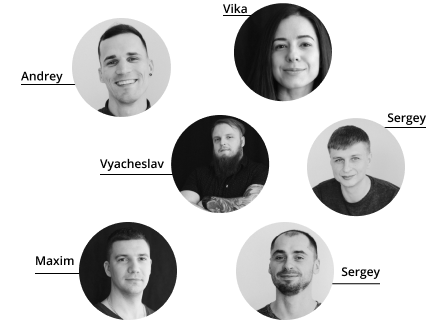 Hire a team
Let us assemble a dream team of QA specialists just for you. Our model allows you to maximize the efficiency of your team.
Request Specialists