TestFort Turns 21 — Get To Know Our Team
by Inna M. on 06/22/2022
21 years ago, in June of 2001, a small group of young and talented software testing engineers took a leap of faith and founded TestFort, a company that would go on to work with some of the most reputable names in the industry.
We thought this was a great opportunity to let you learn more about us. We've asked a few of our longest-working employees about their experience of working at TestFort. This is what they said.
How did you join TestFort and when did that happen?
Yurii Synelnykov, Quality Assurance Engineer: My journey at TestFort started 13 years ago when my childhood friend, who worked for the company at the time, suggested I should check out this job opportunity. A year before that, I completed a TestFort course in QA, so my job interview mostly consisted of two questions: "Can you work with bug tracking software?" and "When can you start?". So that's how I got here and I've been with TestFort ever since.
Yevhen Lialiuk, Automation QA Engineer: I joined TestFort 15 years ago. I worked as a System Administrator before but was studying quality assurance at the same time because I thought it was a promising field. My task at the job interview was to change the firmware of a device to another programming language. I did it and that is how I was hired as a Junior QA.
Oleh Yarovyi, Quality Assurance Engineer: I started my career at TestFort 11 years ago as a Junior QA. I saw a job opening and the description was exactly what I was looking for, so it was a perfect match from the start.
Viktoria Voloshyna, QA Team Lead: I've been at TestFort for 15 years and started out as a Junior QA. I still remember my job interview — I got a big and complex test assignment, and while my execution wasn't perfect, I guess my interviewees saw how hard I tried to do it well and hired me in the end. This is why, when I'm conducting job interviews these days, I'm always considering the person's potential, not just how they're doing at that moment.
Vyacheslav Khrusch: My history at TestFort started 11 years ago in the position of a Junior QA. My girlfriend at the time was a Sales Manager there, and she was the one who suggested I should apply. When I arrived at the job interview, I forgot the name of the person who was supposed to interview me and said a completely different last name. 
So when the administrator told me that no one with that name worked there, I was already leaving until I was chased and brought back by a guy who worked there and knew me. If it wasn't for him, I would have ended up with a different job at a different company.
What is your funniest or most cherished moment from working at TestFort?
Yevhen Lialiuk: One of the most fun things I experienced at this job was back when we worked at our old office in Kharkiv. Whenever there was heavy rain, the roof would leak. So the minute we knew it was raining, there was a race to move the tables around and save the equipment from potential water damage.
Viktoria Voloshyna: In 15 years working at TestFort, there have been a lot of funny and memorable moments. I remember when we moved to a new office in Kharkiv, there was a fingerprint scanner at the door. And for some reason, every time when the scanner did not recognize me and refused to let me in, I found it very funny. 
I also remember one time when someone decided to reheat fish in an office microwave — this was the moment we got the idea to put stickers saying "Please do not microwave fish" in the office kitchen. And another time, I brought my daughter Oleksandra to work. While I was busy, she decided to draw with red crayons. When I next saw her, she was covered in red, and I was really worried for a second that she injured herself before I remembered it was the crayons.
Vyacheslav Khrusch: Over the years, there were countless funny and memorable moments, so it's hard to point out a single one. Once, my coworkers decided to play a prank on me by putting me in a refrigerator box and sealing it shut (leaving a hole for fresh air, of course). They ran away, and I was discovered by our Head of HR, who panicked and yelled for them to free me.
Why did you decide to stay with TestFort after all these years?
Yurii Synelnykov: While working at TestFort for 13 years, I've watched it grow and I grew along with it. I've had lots of opportunities to develop my professional competencies, as well as personal qualities — specifically, my sociability, responsibility, and problem-solving skills. I'm staying with the company because, even after 13 years, I'm still interested in the work I'm doing and I feel exceptionally comfortable here.
Yevhen Lialiuk: There are many reasons why I'm still with TestFort and am not planning to go anywhere. For example, this is where I became an Automation QA Engineer, and working on so many different projects has been exceptionally valuable for my professional development. However, the number one reason why I remain here is my team — I couldn't wish for a better, more supportive group of coworkers.
Oleh Yarovyi: The 11 years I spent at TestFort shaped me as a QA engineer. Some projects I've been involved in grew from just a few engineers to full-scale teams, and that kind of progress can aid any QA professional. I'm also witnessing TestFort's transformation to become a more socially conscious organization with more benefits for its employees, and that is another reason why I'm deciding to stay.
Victoria Voloshyna: My biggest takeaway from the 15 years I've spent at TestFort is the all-encompassing experience I got there. I am incredibly grateful for every single person who was or is currently on my team. Their support has been invaluable to me and I firmly believe that these guys rock!
Final thoughts
The TestFort team is the reason why we are still here 21 years later. Our employees make our company a better place for everyone, they inspire us to make positive changes, and we are hoping for at least 21 more years together.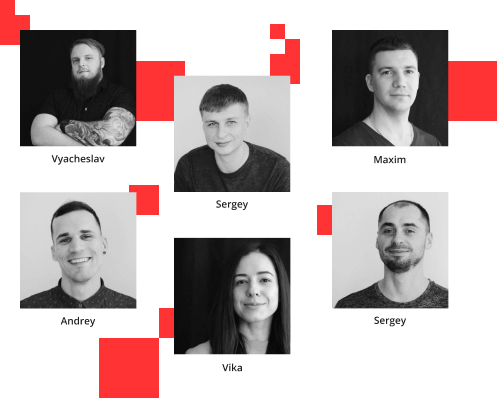 Hire a team
Let us assemble a dream team of QA specialists just for you. Our model allows you to maximize the efficiency of your team.
Request Specialists