Managing Time for Testing With Ease
by TestFortExpert on 01/26/2015

So much we must do within so little time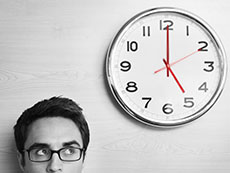 24 hours are all any day may offer us. It should be enough yet somehow it's not. And if you suddenly are starting to think about all that there are many tasks that require attention, people need to be managed and deadlines have to be met. And there are still personal necessities like food, sleep and time with family. Now 24 hours do not seem as that much time, do they?
And can you even imagine a schedule of somebody with as much responsibilities as let's say a US president? Sure that is way too big for an example, but there are many CEOs and CTOs responsible for entire companies. How are they managing to fit all their tasks into an extremely limited time interval? I probably would need to say that almost all successful people have several things in common. Perfect time-management skills are of such shared qualities. Yet nobody is being born with this ability.
There are several secrets and tricks here as well everybody may learn and benefit of. This article will provide you with some best time-management techniques:
This is something you will truly require before learning how to manage time appropriately: track your personal daily activity. Try figuring out what you are up to and used to, what are your habits? How much of your personal time are you spending on tasks with low priority? Perhaps you are procrastinating some activities and tests? Take a week as a starter point. You will probably have a picture that is less or more clear and you will already possess data you will require to work on. The large variety of applications will assist you greatly. Notice all the interruptions and delays you are facing during a week. Note down their cause and duration. After the analysis you will surely be surprised that you are currently spending less than a half of your business hours on the actually important things.
Now that you have accurate data at your display try minimizing the amount of interruptions. There will be many things at your own work that will be leading you everywhere but desired results. It may simply be a colleague asking you for a favor that will last a minute, not longer (those are always taking much more) to a facebook post that can't live on without you 'liking' it, etc. If you are receiving a text or an e-mail from your friend nothing will happen if you will not answer it immediately. You have already found your interactions during last week. Avoid them from now on.
The one touch rule is amazing. One touch rule is like in chess: once you have touched a figure you are to make a move with it. Just think about all the times you were reading a really long e-mail for a while, then received a phonically with some other immediate tasks and new mail afterwards. Thus you are re-reading same information over and over for several times within several days and are wasting lots of your personal time to that. The one touch rule is simple. If you aren't by all 100% sure you will be completing a particular task right after opening the appropriate e-mail than don't open the mail at all. This really works, especially for both software testers and management teams. Just try it!