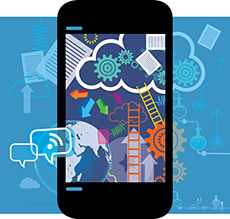 A not very tech-experienced person can think of different kinds of testing as of similar activities. As mobile apps usually look simpler than PC software or websites, it can seem that testing mobile applications is even easier than other software.
However, there are certain challenges every mobile app tester faces which make this type of testing special and difficult in its own way.
Here are they:
Hand-held devices differ greatly in their screen sizes, hardware capabilities, and input methods (for example, touch, normal, QWERTY).
Diversity in Platforms and OS
The market features a whole lot of various Mobile Operating Systems. The major ones include Android, iOS, Windows Phone, Symbian, and BlackBerry. Naturally, each operating system is with its own limitations. That's why testing one mobile app across that many of devices running on identical and different platforms (all cases should tested) posed a great challenge for any tester.
The world now numbers more than 4 hundred mobile network operators, some of them CDMA, some GSM. Provide that each network operator utilizes a different kind of network infrastructure which limits the information flow, network performance can also have a powerful impact on user experience with a mobile app.
With the existing variety of devices executing test scripts becomes a key challenge, too. Since devices may vary in input methods, keystrokes, display properties and menu structure, a single script won't function on any devices. That's why for projects with longer duration we usually leverage automation. With its help testers can automate smoke testing and regression testing to a certain extent. Among the available mobile testing automation tools are Robotium, See Test, Calabash, Monkey Talk, Appium, Eggplant, Silk Test, Frank, Keep It Functional and other.
If you look at the difference of Android's 1.0 and 4.4 Kit Kat versions or iOS versions such as iPhone OS 1.0 and iOS 7.1, you'll see it's really big. Version control is yet another great challenge for mobile app publishers and testers.
What else you can name as characteristic challenges of mobile software testing?