Split or a/b or bucket usability testing is a marketing method of finding out which changes to your page comparing to the present design can  produce positive results.  Lately a classic direct mail tactic has begun to be used in interactive space, for instance to test banner ads or emails. Using SES split testing plugin you can completely carry on an a/b test on your WordPress sites.
If a Google Analytics is already installed in the pages, the next 4 easy actions will help you with the a/b (/c etc) tests:
Create a couple of different versions of the theme
Select them in plugin settings
Arrange your Google Analytics account so that it assigned custom segments
Wait for the results!
How to create Multiple Theme Variations
It regularly happens that you want to test a couple of different versions of one theme. Considering that your theme is uploaded in the following folder wp-content/themes/mythemes. Copy your theme and paste it in a new folder, for instance, wp-content/themes/mythemes2. Start the css.file which lies in the second folder and rename the theme e.g.
/*
Theme Name: Theme
to
/*
Theme Name: Theme 2
*/
Set up plugin settings
It's time to install and activate the plugin. Click on the settings (Settings->SES Theme Split Test). The plugin shows you all themes that are available. Choose one that will be part of the test. Don't forget to save the settings. The split testing will start. So the people will be haphazardly assigned to one of the chosen themes. During the next 30 days they will get that theme any time they visit your page or else and will be tagged with a special variable, which you can choose in Google Analytics.
Set up Custom
Google Analytics gives you the opportunity to define custom segments i.e. how to group customers. Let's group customers according to which theme they were shown and calculate the chosen metric (purchase/sign-up/page views – whatever) for the two groups and analyze them.  It's better to wait 24 hours and give Google the opportunity to receive the tagging data.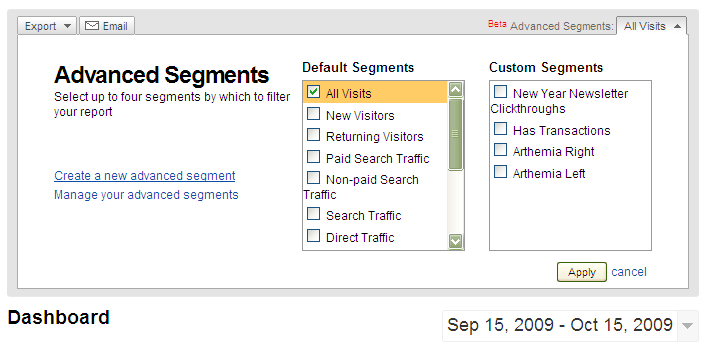 The next step is to log into your analytics account and press on "All visits" in a dropdown menu (see above the date selector), choose "Create a new advanced segment". To extend the "Visitors" section select "Dimensions" in a drop down menu.
Find "User Defined Value" and move in onto the right hand box "Dimensions and Metric". When your tagging data is already in the Analytics (24 hours should pass in any case) then just pick one of the values that were received. For instance,
Create a section for every theme and name them, so that later you could select them as custom segments from your reports. Wait and see! When you see the results pick one with the highest score and set it as your blog's standard theme in a usual way. Users will see your blog default. Speaking about the plugin either deactivate it or unselect the themes in the settings.